Products
Material Testing Machines
Fatigue Testing Machine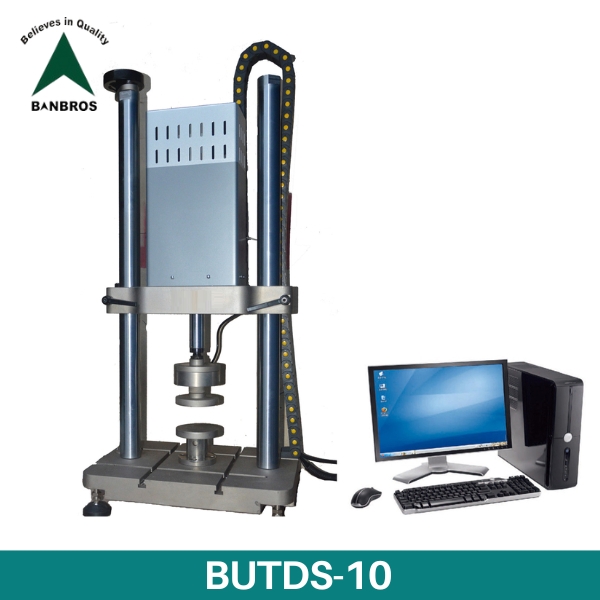 BUTDS-10
Electronic Dynamic Fatigue Testing Machine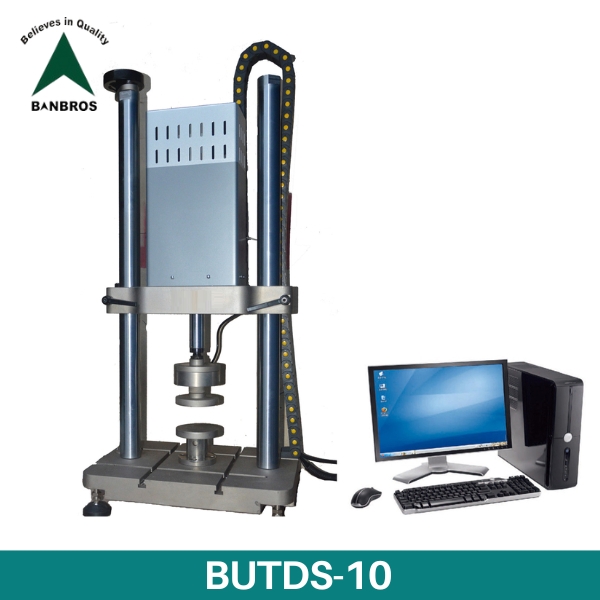 Description
Fatigue testing equipment is often used to determine how a material will perform over time and repeated use.
BANBROS offer the BUTDS series Electronic Dynamic Universal Testing Machine/ Cyclic Testing Equipment widely used at material and components, parts dynamic mechanical property test, include tension, compression, low cycling test, match with high-low temperature chamber can execute the temperature test.
These are used to determine the impact ductility of non-metallic materials, such as Rigid thermoplastic and thermosetting plastic, thermosetting plastic and thermoplastic after fibre-reinforced. It is widely used in the industries of plastic products, plastic manufacture, Petro chemical etc, University, scientific research institute and commodity inspection.
Features
One control channel, with load, displacement, deformation three close-loop control, these three-control type smoothly switch.
Max. close-loop data flash frequency is 6Khz;
Controller A/D, D/A resolution is 16-bit, signal generate frequency is 0.001Hz~ 50HZ.
Signal generate waveform include sine wave, triangular wave, quare wave, saw tooth wave etc.
Two levels servo valve driving unit used to drive the servo valve, remote hydraulic pump used to remote control the hydraulic pump station.
Comply with different standards such as ASTM F2606, ASTM F2516, ASTM F2267, ASTM F384, EN 397 etc
Specifications
| | |
| --- | --- |
| Model No. | BUTDS-10 |
| Max. static load | ±10KN Accuracy ±1% |
| Max. dynamic load | ±1kN |
| Dynamic fluctuation | Less than ±1%FS |
| Actuator max. stroke | ±100mm |
| Frequency | 0.01~15Hz |
| Control mode | Load, displacement, deformation |
| Main test waveform | Sine wave, triangular wave, quare wave, sawtooth wave etc. |
| Max. test space | 550mm (include test fixture) |
| Test width | 430mm |
| Dimensions | 785*620*1650mm |
| Standard Power | 220/110V, 50/60HZ, 1 phase |
| Working system | MS Win7 / Win10 |
Accessories
High Stiffness Frame : 1 set
Servo liner actuator : 1 set
Servo driver : 1 set
Loadcell : 1 set
LVDT (liner displacement sensor) : 1 set
Test fixture (quote and design according details test sample) : 1 set
Fully digital servo controller : 1 set
Professional testing software : 1 set
Computer : 1 set
Printer : 1 set
Documents (Manual, packing list, certificate)
BUTDS-10
Electronic Dynamic Fatigue Testing Machine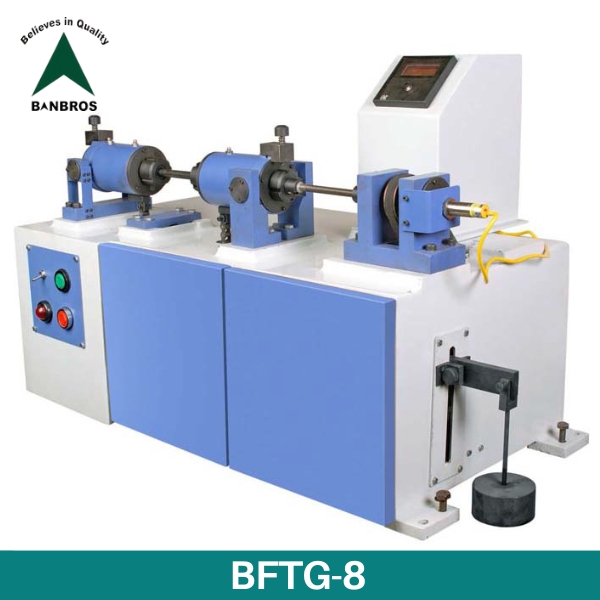 BFTG-8
Fatigue Testing Machine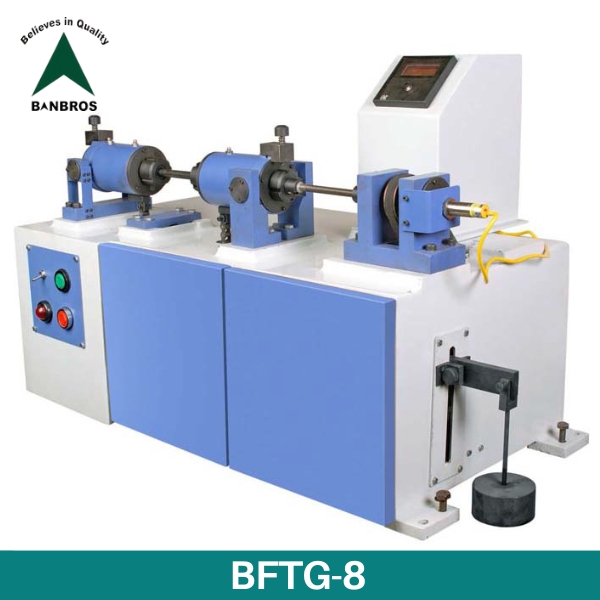 Description
This machine is used to test the Fatigue strength of materials and to draw S-N Diagram by research institutes, Laboratories, material manufacturers and various industries. This is a rotating beam type machine in which load is applied in reversed bending fashion. The standard 8 mm Dia specimen is held in special holders at its ends and loaded such that it experiences a uniform bending moment. The specimen is rotated at 4200 rpm by a motor.
A complete cycle of reversed stresses in all fibers of the specimen is produced during each revolution. The bending moment is applied with a lever system and can be easily changed by moving weight over the lever. Total number of revolutions at which the specimen fails is recorded by a Digital Counter. An interlocking system puts off the motor at specimen failure, Machine meets requirements of IS 5075-1959.
Features
Light weight, compact size, Simple design
Table model, no need at foundation.
Simple lover System of changing bending moment load.
Accurately Calibrated as per IS 5075.
(Machine with maximum bending moment up to 40Nm can be offered on request)
Specifications
Model No.
BFTG-8
Maximum Bending Moment
2 Nm
Bending Moment adjustable
2.5-20 Nm
Range
Range-I 2.5-12.5 Nm
Range-II 12.5-20.0 Nm
Gripping Dia of specimen
12mm
Testing dia of specimen
8 mm
Rotating speed
4200 rpm
Accuracy of applied bending moment
± 1 %
Digital Counter
8 Digit
Power required
0.5 HP
Power Supply
3 ph,440 V,50 Hz, A.C
Overall size (approx)
1000 L X 500 W X 600 H mm
Weight (approx)
120 kg
BFTG-8
Fatigue Testing Machine